home
overview
research
resources
outreach & training
outreach & training
visitors center
visitors center
search
search
Google™ Search
October 31, 2013
Chimera production release 1.8.1 is now available. Changes since 1.8 are mainly to fix problems with Mac OS X 10.9 (Mavericks). See the release notes for further details and for a list of new features since the 1.7 release.
June 7, 2013
Chimera production release 1.8 is now available. See the release notes for new features since the 1.7 release.
April 18, 2013
A production release candidate (version 1.8) is now available; please try it and report any problems. See the release notes for changes relative to the previous release.
(Previous news...)

UCSF Chimera is a highly extensible program for interactive visualization and analysis of molecular structures and related data, including density maps, supramolecular assemblies, sequence alignments, docking results, trajectories, and conformational ensembles. High-quality images and animations can be generated. Chimera includes complete documentation and several tutorials, and can be downloaded free of charge for academic, government, non-profit, and personal use. Chimera is developed by the Resource for Biocomputing, Visualization, and Informatics, funded by the National Institutes of Health (NIGMS P41-GM103311).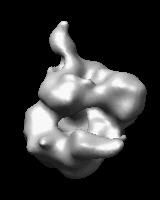 Related density maps can be compared by morphing from one to the other. Several intermediate maps are generated by interpolating between the starting and ending maps. The morph can be viewed interactively and recorded as a movie. The contour level can be adjusted automatically to keep the enclosed volume constant throughout the morph, and other aspects of map display can be adjusted with Volume Viewer.
(More features...)
---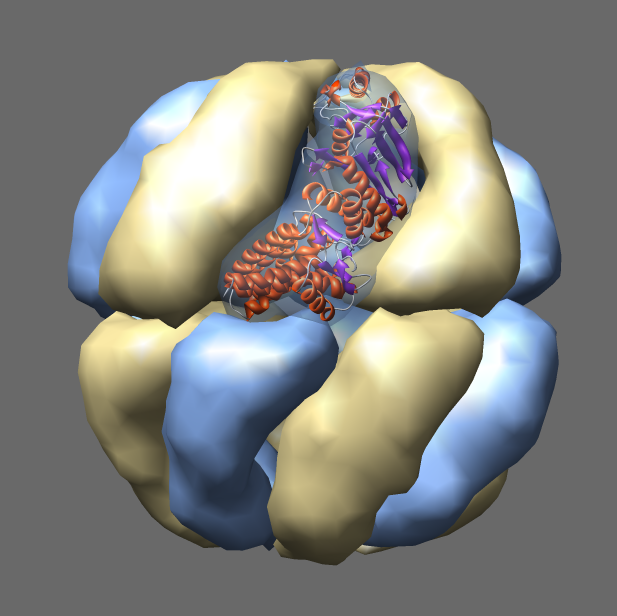 Thermosomes are hollow balls inside which proteins are folded. They are found in the cytosol of eukaryotes and in archaea. Eukaryotic thermosomes have 8 different protein subunits, while archaeal ones are composed of one, two or three different proteins. The one shown from Thermoplasma acidophilum has two distinct proteins colored blue and yellow, each present in 8 copies. The two proteins have 60% sequence identity and are very similar in structure. One monomer is shown as a ribbon. Actin and tubulin are folded by eukaryotic thermosomes.
Protein Data Bank model 1a6d.
(More samples...)