home
overview
research
resources
outreach & training
outreach & training
visitors center
visitors center
search
search
Google™ Search
May 13, 2014
Chimera production release 1.9 is now available. See the release notes for new features since the 1.8 release series.
April 23, 2014
A production release candidate (version 1.9) is now available; please try it and report any problems. See the release notes for changes relative to the previous release.
October 31, 2013
Chimera production release 1.8.1 is now available. Changes since 1.8 are mainly to fix problems with Mac OS X 10.9 (Mavericks). See the release notes for further details and for a list of new features since the 1.7 release.
(Previous news...)

UCSF Chimera is a highly extensible program for interactive visualization and analysis of molecular structures and related data, including density maps, supramolecular assemblies, sequence alignments, docking results, trajectories, and conformational ensembles. High-quality images and animations can be generated. Chimera includes complete documentation and several tutorials, and can be downloaded free of charge for academic, government, non-profit, and personal use. Chimera is developed by the Resource for Biocomputing, Visualization, and Informatics, funded by the National Institutes of Health (NIGMS P41-GM103311).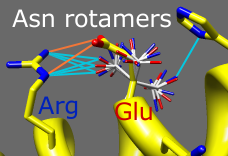 Amino acid sidechains adopt different conformational states, or rotamers. Rotamers from the Dunbrack backbone-dependent library or the Richardson "penultimate" library can be viewed, evaluated, and incorporated into structures with the Rotamers tool. A residue can be changed into a different conformation of the same type of amino acid or mutated into a different type. Rotamer torsion angles and library probability values are listed in a dialog, along with (optionally) hydrogen bonds, clashes, and agreement with electron density data. Only rotamers chosen in the list are displayed. When a single rotamer is chosen, it can be incorporated into the structure. The image includes 2D labels.
(More features...)
---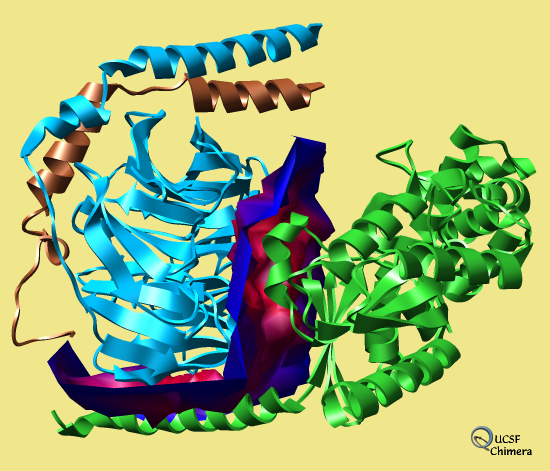 Heterotrimeric G protein (Protein Data Bank entry 1gg2) with the alpha subunit shown in green, the beta subunit in light blue, and the gamma subunit in brown. The Intersurf tool was used to show the interface between the alpha and beta subunits. The interface surface is colored to show the distance between atoms across the interface (red for closer together, blue for farther apart). (More samples...)